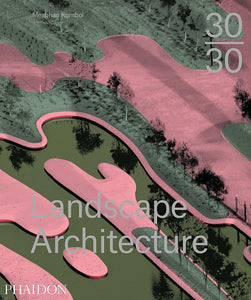 In 30:30 Landscape Architecture, 30 of the most renowned landscape architects explore the work of the 30 of the world's top emerging architects with more than 500 illustrations. 
This book captures the essence of how the world is designed around us. A global and influential group of landscape architects will divulge fascinating details about their work - including their inspirations and design processes - as well as debate the key issues for landscape architects today and in the future.
This up-to-date overview of contemporary landscape architecture offers students, practitioners and enthusiasts an inspiring and insightful look at global landscape architecture today. Catherine Mosbach, George Hargreaves, Martha Schwartz and Adrian Geuze as well as the best and brightest of the next generation of designers engage with a diverse range of projects, demonstrating both the importance and creativity of landscape architecture.
A truly global list of landscape architects from 20 countries working in Chile, Mexico, USA, Canada, UK, China, South Korea, Japan, Australia, Sweden, Spain, France, Germany, and the Netherlands.
Author: Meaghan Kombol
Publisher: Phaidon
Format: Hardback
Pages: 320
ISBN: 9780714869636
Publication Date: September 2015