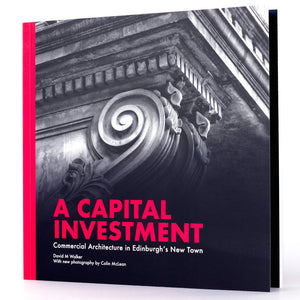 As originally conceived, Edinburgh's New Town was a residential development, but as the City's burghers gradually migrated from the overcrowded streets and closes of the Old Town, businesses followed them. The banks and other financial institutions in particular employed the nation's finest architects to produce buildings that were symbols of their status and ambition. David Walker writes expertly and knowledgeably about the emergence in the New Town of this new type of commercial architecture, which transformed the once residential suburb into the financial capital it remains today.

John Hume, former Chair of the Royal Commission on the Ancient and Historical Monuments of Scotland:

"The architecture of Edinburgh's 'Commercial Revolution' had a profound impact on the city. It transformed the New Town from a middle-class escape from the Old Town into a richly stimulating and varied truly urban place. David Walker's unparalleled knowledge and understanding of this subject, and his ability to transcend fashion in architectural criticism, have produced what I can only term a masterpiece. This condensed contribution is as game-changing as Youngson's, and as timely. And photography underpins what he has written; without past photographers, their lenses, their plates and their films, this marvellous essay could not have been written."

This new publication from the Aperture Trust was launched at the opening of the CLASSICAL EDINBURGH exhibition in Edinburgh's City Art Centre.
Author: David M Walker with new photographs by Colin McLean
Publisher: Aperture Trust
Format: Paperback
Pages: TBC
ISBN: 9781527249301
Publication Date: November 2019