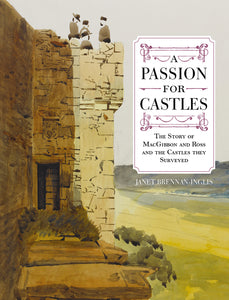 In the 1880s two Edinburgh architects began to survey, measure and sketch the castles of Scotland, travelling the length and breadth of the country on trains, bicycles and on foot. Together they produced the five magnificent volumes of The Castellated and Domestic Architecture of Scotland, an unrivalled work of research that surveys more than 700 of Scotland's castellated buildings, ranging from great medieval fortresses to small lairds' houses with pepper-pot turrets, and is illustrated with thousands of sketches and plans.
The first part of A Passion for Castles tells the life stories of David MacGibbon and Thomas Ross and their work as Edinburgh architects before they embarked on their magisterial survey, revealing interesting and previously unknown details about the two men. The second part of the book sets their enormously ambitious castles project in its historical context, and describes how MacGibbon and Ross managed to achieve their pioneering, systematic and comprehensive survey.
The final part of the book provides a regional overview of the current status of all the castles surveyed by MacGibbon and Ross, followed by a thematic exploration of those that have been lost, those that have been transformed and those at risk of collapse, before posing questions about what the future holds for the castles of Scotland.
Author: Janet Brennan-Inglis
Publisher: Birlinn Ltd
Format: Hardcover
Pages: 242
ISBN: 9781910900826
Publication Date: October 2022