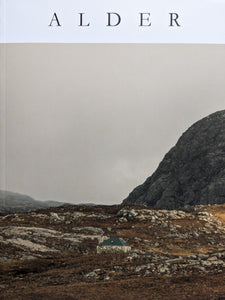 "This is not an architecture magazine in the conventional sense. The publisher, Mary Arnold-Forster, is a busy practicing architect and much of the built work included has been gifted by other architects who are, in commercial terms, Mary's competitors. A whole cast of people; architects, artists, builders, craftsmen, boat builders, bakers, photographers and writers, have collaborated in making this first issue.
Alder is as much about landscape, patterns of life, materials, colours and politics as it is about singular buildings or art objects. It's a record of new work by individuals who engage seriously with place and tradition to better understand what's necessary and possible - rather than an ornament or adornment.
This magazine is for clients and the public as well as architects and makers that want to share work with their peers. Arnold-Forster hopes Alder can expand upon the remit of the homes and interiors magazines that have set the standard for beautiful homes over the past decade. Already she detects a cultural shift in favour of a more modest, restrained and less demanding kind of home." ~ Penny Lewis
Contributors: Mary Arnold-Forster Architects, Penny Lewis, Annie Cattrell, Sutherland + Co, Skye Stone Studio, The Bread Lab, The Uig Development Trust, Studio Vans, Konishi Gaffney Architects, Johnson + Loftus, Fraser/Livingstone Architects, Mass Timber Solutions, Dualchas Architects.
Publisher: Alder

Format: Paperback/ Magazine

Pages: 114

ISSN: 9772753668004

Publication Date: September 2022