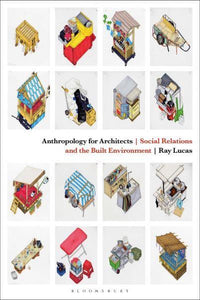 What can architects learn from anthropologists? This is the central question examined in Anthropology for Architects - a survey and exploration of the ideas which underpin the correspondence between contemporary social anthropology and architecture. The focus is on architecture as a design practice. Rather than presenting architectural artefacts as objects of the anthropological gaze, the book foregrounds the activities and aims of architects themselves. It looks at the choices that designers have to make - whether engaging with a site context, drawing, modelling, constructing, or making a post-occupancy analysis - and explores how an anthropological view can help inform design decisions.
Each chapter is arranged around a familiar building type (including the studio, the home, markets, museums, and sacred spaces), in each case showing how anthropology can help designers to think about the social life of buildings at an appropriate scale: that of the individual life-worlds which make up the everyday lives of a building's users. Showing how anthropology offers an invaluable framework for thinking about complex, messy, real-world situations, the book argues that, ultimately, a truly anthropological architecture offers the potential for a more socially informed, engaged and sensitive architecture which responds more directly to people's needs.
Based on the author's experience teaching as well as his research into anthropology by way of creative practice, this book will be directly applicable to students and researchers in architecture, landscape, urban design, and design anthropology, as well as to architectural professionals.
Author: Ray Lucas  
Publisher: Bloomsbury Publishing
Format: Paperback
Pages: 246
ISBN: 9781474241496
Publication Date: February 2020