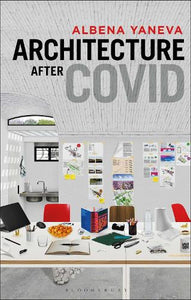 In 2020, the COVID pandemic unfolded and transformed the lives of billions across the world. As the invisible killer marched across continents, causing unprecedented disruption worldwide, architects and designers began rethinking how to design cities and adapt their practice so that we might continue to live together in the future. 
Architecture after COVID is the first book to explore the pandemic's transformative impacts upon the architectural profession. It raises new questions about the intertwined natures of architectural production, science, society, and spatial practice - questions which had lain latent in the profession for years, but which the COVID pandemic brought to the fore.
The book explores how the pandemic modified the spatial conventions of everyday life in the city, and looks in detail at how it has transformed building typologies. It also shows how the continuing risk of pandemics leads us to rethink the social dimension of architecture and urban design; and ultimately proposes a radical re-evaluation of the conditions of architectural practice - making a compelling argument about the changing agency of architectural design and the importance of designers in re-ordering the post-pandemic world.
Packed with interviews and case-studies from a wide range of contemporary design practices, Architecture after COVID will inspire debates among architectural practitioners and theorists alike. The broad view of the approach and the depth of the professional issues at stake mean that this book will offer key insights for the discipline long beyond the scope of the COVID pandemic - as it explores the long-lasting bond between city, science and society as the 'new normal' begins to emerge.
Author: Albena Yaneva  
Publisher: Bloomsbury Publishing
Format: Paperback
Pages: 192
ISBN: 9781350271067
Publication Date: January 2023