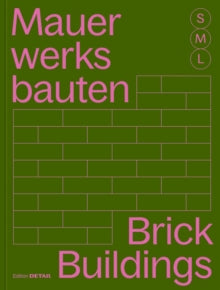 Brickwork has long dominated architecture in almost every country in the world. And no wonder, it can be found virtually everywhere, considering the materials needed to produce it. Its colour reflects the mineral content in local clay, and a variety of brick sizes and construction methods make masonry a highly flexible option for construction.

The traditional building material is more in demand today than ever before. Easy to dismantle and recycle, energy-efficient and sustainable, brick can be used across a wide range of applications. Brickwork Buildings S, M, L showcases 30 buildings of various sizes with inspiring photos and in-depth construction details.

From small residential buildings, museums and schools to university buildings, cultural centres and even residential towers, the book shows its many potential uses.

Editor: Sandra Hofmeister 
Publisher: De Gruyter
Format Hardback
Pages: 352
ISBN: 9783955535995
Publication Date: June 2023