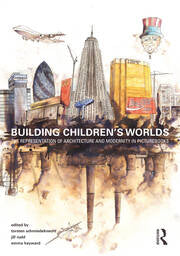 Children are the future architects, clients and users of our buildings. The kinds of architectural worlds they are exposed to in picturebooks during their formative years may be assumed to influence how they regard such architecture as adults.

Contemporary urban environments the world over represent the various stages of modernism in architecture. This book reads that history through picturebooks and considers the kinds of national identities and histories they construct.

Twelve specialist essays from international scholars address questions such as: Is modern architecture used to construct specific narratives of childhood? Is it taken to support 'negative' narratives of alienation on the one hand and 'positive' narratives of happiness on the other? Do images of modern architecture support ideas of 'community'? Reinforce 'family values'? If so, what kinds of architecture, community and family? How is modern architecture placed vis-à-vis the promotion of diversity (ethnic, religious, gender etc.)? How might the use of architecture in comic strips or the presence of specific kinds of building in fiction aimed at younger adults be related to the groundwork laid in picturebooks for younger readers?

This book reveals what stories are told about modern architecture and shows how those stories affect future attitudes towards and expectations of the built environment.
Author: Torsten Schmiedeknecht, Jill Rudd, Emma Hayward
Publisher: Routledge
Format: Paperback
Pages: 254
ISBN: 9780367675486
Publication Date: March 2023