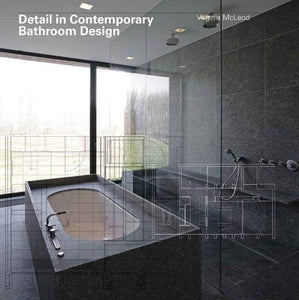 This book examines over 30 bathroom designs from around the world, each one designed by a notable architect and created especially for a specific residence.

For each bathroom there is an image of the whole house (placing it in context and providing a flavor of the general design style), images of the bathroom, and a floor plan showing its relation to the other spaces. The pages that follow are entirely devoted to detailed drawings showing the arrangement and construction of the bathroom, in particular sections, elevations, and construction details of all the fitted units and joinery. These drawings are all made to a consistent style and to a set number of scales for easy comparison. Dimensions are also included with the drawings as well as details of fitted units (baths, showers, basins, etc.).

The credits for the projects include contact details of suppliers so that the exact materials and fixtures can be sourced. The projects are arranged into chapters by type of dominant material: glass, steel and stone. The book will be invaluable for all practicing architects as well as those considering commissioning a high-quality bathroom for their own house.

Author: Virginia McLeod
Publisher: Laurence King Publishing
Format: Hardback
Pages: 192
ISBN: 9781856695909
Publication Date: April 2009