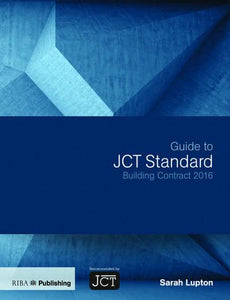 Guide to JCT Standard Building Contract, the new edition of Sarah Lupton's ever popular Guide to SBC11, is a practical guide to the operation and administration of the JCT Standard Contract suite 2016 (SBC/Q, SBC/AQ and SBC/XQ).
All of the contract's provisions, procedures and conditions are organised and explained by subject, clearly distinguishing the different obligations due to various parties and the contractual issues arising during the course of a job - all backed up by the latest legislation and case law.
Changes to this new edition include:
thorough explanation and analysis of the new JCT Standard Contract Suite 2016
comprehensive update on legislative changes since 2011, such as the Consumer Contracts (Information, Cancellation and Additional Charges) Regulations 2013 and CDM Regulations 2015
coverage of key case law developments, on issues such as the meaning residential occupier, choice of contract, access to site, concurrent delay, inspection, practical completion, certification, payment, termination and mediation
objective commentary and comparison with relevant features of the new RIBA Building Contracts
brand new content to improve coverage and overall value to the reader
fresh new design.
Not only is this an indispensable reference for the hard-pressed practitioner, but, assuming no prior knowledge of JCT contracts or the law, it is also ideal for architecture and other construction students on the threshold of undertaking their professional exams.
Author: Sarah Lupton
Publisher: RIBA Publishing
Format: Paperback
Pages: 166
ISBN: 9781859466407
Publication Date: July 2017