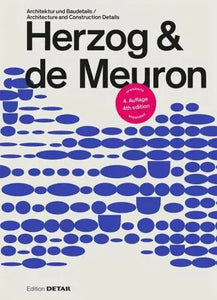 This monograph documents 21 building projects by Herzog & de Meuron, from the Royal College of Art in Lodon to the Elbphilharmonie in Hamburg, the Ricola-Kräuterzentrum in Laufen or the Prada-Shop in Tokyo. 
The design ideas of the architects, their handling of traditional and new materials as well as the corresponding technical challenges are revealed. 
The buildings are presented with text, photos and drawings, which also record processes and constructive building details.
This fourth edition of the book takes a look behind the scenes of the global brand Herzog & de Meuron and outlines a current selective overview of its architecture and construction details.
Editor: Sandra Hofmeister

Publisher: DETAIL
Format: Hardback
Pages: 224
ISBN: 9783955536091
Publication Date: July 2023