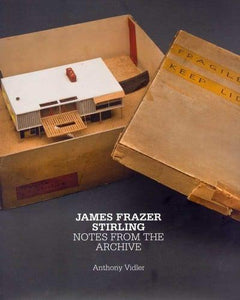 An in-depth exploration of the design process and teaching methods of the remarkable British architect as revealed by the archives of the Canadian Centre for Architecture, Montreal.

The British architect James Frazer Stirling (1924-1992) stimulated impassioned responses among both supporters and detractors, and he continues to be the subject of fierce debate. He earned international renown through such innovative-and frequently controversial-projects as the Leicester University Engineering Building (1959-63); the History Faculty building at Cambridge University (1964-67); the Neue Staatsgalerie, Stuttgart (1977-84); the Clore Gallery at Tate Britain (1984); and the Arthur M. Sackler Museum at Harvard University (1979-84). Stirling was also a visiting professor at the Yale School of Architecture, where he trained and influenced many of the current leaders in the field.
Fully illustrated with previously unpublished documents and new photography from the James Stirling/Michael Wilford Archive at the Canadian Centre for Architecture, Montreal, this book allows for a close examination of design drawings, photographs, and models spanning Stirling's entire career. These materials deepen our understanding of the influences, early formation, approach, and process of an architect whose work resists labeling. Filled with in-depth analytical and critical presentations of exemplary projects and their reception, the volume reveals Stirling to be a remarkably informed and consistent thinker and writer on architecture.
Author: Anthony Vidler, James Stirling
Publisher: Yale University Press
Format: Hardback
Pages: 303
ISBN: 9780300167238
Publication Date: October 2010