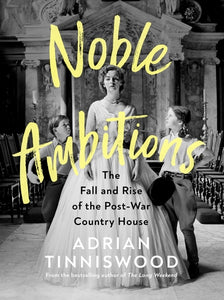 *A Daily Telegraph Book of the Year 2021*
*Longlisted for the William MB Berger Prize for British Art History*

'Preposterously entertaining' Observer
'Brilliant' Daily Telegraph
'Rollicking' Sunday Times

From the bestselling author of The Long Weekend: a wild, sad and sometimes hilarious tour of the English country house after the Second World War, when Swinging London collided with aristocratic values.

As the sun set slowly on the British Empire in the years after the Second World War, the nation's stately homes were in crisis. Tottering under the weight of rising taxes and a growing sense that they had no place in twentieth-century Britain, hundreds of ancestral piles were dismantled and demolished. Perhaps even more surprising was the fact that so many of these great houses survived, as dukes and duchesses clung desperately to their ancestral seats and tenants' balls gave way to rock concerts, safari parks and day trippers.

From the Rolling Stones rocking Longleat to Christine Keeler rocking Cliveden, Noble Ambitions takes us on a lively tour of these crumbling halls of power, as a rakish, raffish, aristocratic Swinging London collided with traditional rural values. Capturing the spirit of the age, Adrian Tinniswood proves that the country house is not only an iconic symbol, but a lens through which to understand the shifting fortunes of Britain in an era of monumental social change.

Lavishly illustrated in full colour, with over 50 photographs.
Author: Adrian Tinniswoodr)
Publisher: Jonathan Cape
Format: Hardback
Pages: 416
ISBN: 9781787331785
Publication Date: October 2021