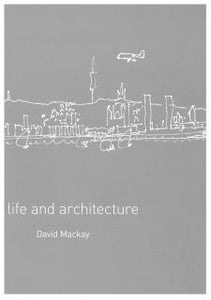 The object of this little book is to help us all to understand the role of architecture in forming the built environment within which we live our daily lives. Its effect on our health, wellbeing and happiness should not be underestimated. The responsibility is ours.
David Mackay Hon FRIAS, December 2013


PREFACE
The renowned international architect David Mackay Hon FRIAS has a special relationship with Scotland and in particular with the Royal Incorporation of Architects in Scotland. He has contributed his wisdom to several RIAS Annual Conventions, judged four major Scottish competitions, lectured to Scottish architecture students and, in 2009, his illustrated autobiography A Life in Cities was published by the Royal Incorporation with funding from the Glasgow Institute of Architects.
The preface to A Life in Cities mentions the popular misconception that David Mackay is a Scot. He has even been introduced as such before a large international audience in his adoptive city, Barcelona. To his credit, David has never contradicted the notion that he had his origins in Scotland. He describes his first experience of a major city, as a war time migr visitor to Glasgow, as a defining moment whenever he reflects on his long career, dedicated to shaping cities, through architecture and masterplanning.
This essay, written and published on the eve of David Mackays 80th Birthday, is the culmination of a lifetimes exploration of the effects of architecture on the human condition. David is an extraordinarily erudite, extremely well-read and thoroughly decent man. His personal pursuit has always been an architecture which fundamentally enhances the human condition. His own building projects, often understated, always contextual and invariably transformative of the lives lived in and around them, testify to his skill, sensitivity and care.
This essay brings together Davids lifelong polymathic reading, the thinking expressed through his own work, his observations of the work of others and his studies and experience of the human condition. It contains lessons for his fellow architects and for the politicians, civil servants and clients who influence the evolution of our human habitations. It is a gift, written, with characteristic generosity, as an 80th birthday present from one of Europes most gentle and thoughtful architects, in the hope of making a difference.
Iain Connelly, President, The Royal Incorporation of Architects in Scotland, December 2013
Author: David Mackay
Publisher: The Royal Incorporation of Architects in Scotland
Format: Paperback
Pages: 
ISBN: 9781873190685
Publication date: December 2013