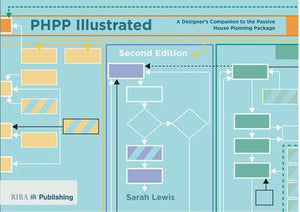 All architects hoping to design to the Passive House standard need to know how to use The Passive House Planning Package (PHPP). This book provides much needed supplementary guidance for purchasers of the PHPP, placing the standard within the UK context, and is a concise, user-friendly, highly and attractively illustrated step by step book for practitioners and students who want to use the PHPP as a design tool. 
By improving their in-use understanding of the PHPP, this guide enables readers to fully comprehend their scheme in terms of the impact of orientation, envelope shape, ratio-to-floor area, fabric build-ups, fenestration ratio and shading effects on the energy balance; essential criteria for all low energy buildings.
Fully-updated to support the latest version of the PHPP, this essential guide is endorsed by the Passivhaus Institute and will act as an invaluable gateway for brand new as well as more experienced PHPP users.
Author: Sarah Lewis 
Publisher: RIBA Publishing
Format: Paperback
Pages: 272
ISBN: 9781859467756
Publication Date:  November 2017