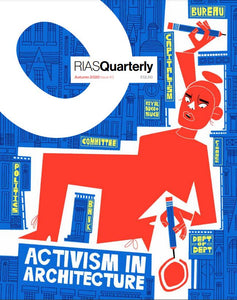 Autumn 2020 Issue 43
Activism in Architecture

"Activist movements highlight and draw attention to current issues, they make us stop, think, appreciate and reflect; in the hope there will be empowerment, support and as a result … change" Christina Gaiger RIAS President.

"we need to steal our gaze away from our screen to take a good look at the direct connections between activism & how we live and work. Connections to better pay & conditions. Connections to overcoming insidious misogyny, racism & white supremacy." Andy Summers and Scott McAulay.
RIAS Quarterly regular slots include book reviews, a student section, an in-depth technical section, highlighting important legislative updates, making the publication a must-read for the architectural community.

RIAS Quarterly is printed and bound in Scotland with vegetable-based inks used throughout. The paper used is made from responsible sources and is seen as the most environmental solution for any paper (FSC accredited).
Author: Andy Summers and Scott McAulay (Editors)
Publisher: RIAS Publishing
ISBN: XQUART43
Publication Date: November 2020