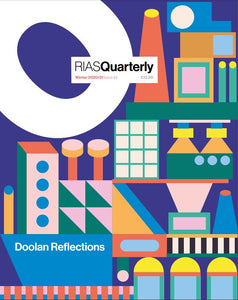 Winter 2020/2021 Issue 44
Doolan Reflections
In this issue:
Showcasing the RIAS Andrew Doolan Best Building in Scotland Award
Architects Benevolent Society
Sustainability
The Circular Economy
Inclusive Design Part 4: Sensory Impairments - Vision, Including Signage
SBCC Essay Competition
RIAS Quarterly regular slots include book reviews, a student section, an in-depth technical section, highlighting important legislative updates, making the publication a must-read for the architectural community.
RIAS Quarterly is printed and bound in Scotland with vegetable-based inks used throughout. The paper used is made from responsible sources and is seen as the most environmental solution for any paper (FSC accredited).
Author: Various Contributors
Publisher: RIAS Publishing
ISBN: XQUART44
Publication Date: February 2021