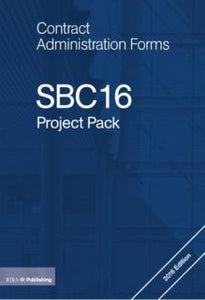 The SBC16 Project Pack is a completely up-to-date set of contract administration forms specifically produced for use with the JCT Standard Building Contract 2016. The Pack is tailor-made to work with the SBC16 contracts and contain a comprehensive selection and sufficient quantity of forms all prepared in a clearly laid out and easy-to-use format to administer a project under the contract.
The SBC16 Project Pack contains:
Interim Certificate (12 copies)

Statement of Retention (12 copies)

Statement of Reimbursement of Advance Payment (12 copies)

Notice of Partial Possession by the Employer (2 copies)

Notification of Adjustment of Completion Date (2 copies)

Non-Completion Certificate (2 copies)

Practical Completion Certificate (2 copies)

Section Completion Certificate (8 copies)

Certificate of Making Good (2 copies)

Final Certificate (2 copies)

The Architect/Contract Administrators Instructions forms are not included in the Pack and are available separately in pads of 50. Additional pads of Interim Certificates, including Statement of Retention, are also available in pads (12 x Interim Certificate and 12 x Statement of Retention).
Publisher: RIBA Publishing
Format: Special
ISBN: 9781859468302
Short Code: JCT SBC16
Publication Date: July 2016