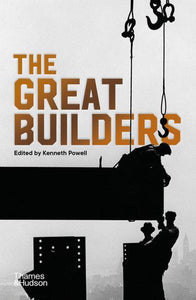 The Great Builders
 surveys the careers of forty great architects whose engineering skills were crucial to their success. Sixteen nationalities and seven centuries of architectural innovation make for a survey of spectacular scope and depth: from churches and fortresses to bridges and high-tech skyscrapers, it includes masterpieces from all over the world and covers 700 years of architectural history.
Here is Brunelleschi, who built the 'unbuildable' dome of Florence Cathedral; Sinan, a Christian engineer who became chief architect to the Ottoman court; Joseph Paxton, scribbling down a design for the Crystal Palace, London, on a piece of blotting paper; and James Bogardus, an early American evangelist of the opportunities offered by cast-iron architecture.
Rapid advances in industrial production inspired experiments with new materials and techniques, gradually allowing a whole new architecture to emerge: reinforced concrete, plate glass and steel were central to the creations of Le Corbusier, Auguste Perret and Mies van der Rohe, for instance; and, in the High-Tech architecture of the present day - represented by Norman Foster, Frank Gehry and Santiago Calatrava, among others - computer-aided design has seemingly tested the boundaries of the possible.
Editor: Kenneth Powell 
Publisher: Thames & Hudson
Format: Paperback
Pages: 240
ISBN: 9780500294789
Publication Date: May 2021