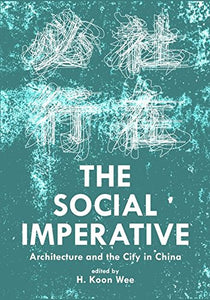 This book contains multiple short critiques, reflections and manifestos, affording each contributing architect and intellectual the time and space to imagine new social paradigms in China. Emerging from a tumultuous history of high culture and complex territorial conditions, there is nothing straightforward about the social development of China. The complexity of the social practices developed by architects and shapers of the built environment can be explained in part by the last three decades of an intensified adoption of the market economy by the Communist Party of China, after an equally short three decades of closed-door communist control. There is no political meltdown like the democratization of the former Communist Bloc, but there is a constant managing of discontent and resistance across China. At the apex of the many creative and intellectual forces in China, architects harbor and give form to many tactics of resistance.
Unfortunately, architects are also the instruments and minds complicit with profit-mongering developers and governments, pursuing unchecked urbanization, degradation of the environment, exploitation of the marginalized, and the creation of a very inequitable China.
This book begins with an introduction that defines the forms and tendencies of China's society as it stands today, and it positions the work of a small number of architects and intellectuals who are at the forefront of reforming, rethinking and even revolutionizing the Chinese society. Beneath the veneer of a very successful China that the world readily acknowledges, a quiet revolution is taking place within the realms of architecture and the city. The social, architectural and urban theories documented in this book are organized around the established canons of social actions – from mobilizing, laboring, resisting and mediating, to networking, controlling, rationalizing and aestheticizing. This book aims to put the social agenda squarely back in the rapid development of the built environment in China.
This publication is the culmination of a three-year study of social issues in the architecture and cities of China. It involved visits to sites undergoing massive change, discussions and debates among architects and critics, reflections by practitioners about their own work, and activists lobbying for social change.
Supported by the non-profit AA Asia, the edition of the contents relied heavily on original input and exchanges between architects and theorists committed to China, from Asia and beyond. Since the 1990s, AA Asia remains one of a few unique think tanks committed to the study of architecture and cities in Asia. As an advocacy with strong academic roots, it seeks to establish the differences across various postcolonial and Asian contexts, and recalibrate the role of architecture in a technocratic era dominated by the global economy.
With Contributions of Robert Adams, Lee Ambrozy, Yung Ho Chang, Chen Ling, Jeremy Chia, Cui Kai, Dong Gong, Dong Yugan, Mario Gandelsonas, Han Tao, Andrei Harwell, He Jianxiang, Hu Yan, Hua Li, Huang Weiwen, Huang Wenjing, Jiang Jun, Jeffrey Johnson, Michael Kokora, Kengo Kuma, Andrew Lee, Joan Leung Lye, Li Han, Li Hu, Li Shiqiao, Nartano Lim, William S.W. Lim, Liu Jiakun, Liu Kecheng, Liu Yichun, Long Ying, Ma Qingyun, Robert Mangurian, Meng Yan, Ou Ning, Alan Plattus, Mary-Ann Ray, Daan Roggeveen, Ruan Hao, Eunice Seng, Shi Jian, Victor Su, Sun Yimin, Wang Fei, Wang Shu, Wang Yan, H. Koon Wee, Shirley Woo, Wu Gang, Wu Liangyong, Xu Tiantian, Rocco Yim, Yu Kongjian, Zhang Ke, Zhao Liang, Zhou Yi, Zhu Tao, Zhu

Author: Koon Wee (Editor)
Publisher: Actar
Format: Paperback
Pages: 360
ISBN: 9780989331791
Publication Date: September 2017