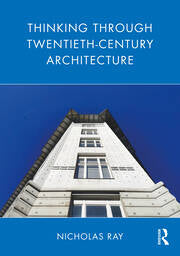 Thinking Through Twentieth-Century Architecture connects the practice of architecture with its recent history and its theoretical origins – those philosophical ideas that lay behind modernism and its aftermath. By analyzing in straightforward and jargon-free language the genesis of modernism and the complex reactions to it, the book clarifies a continuing debate. It has been specifically written to connect issues of theory, history and contemporary practice and to allow students to make these connections easily. 
This is a history of twentieth-century architecture, written with close critical attention to the theories that lie behind the works described. Importantly, unlike other historical accounts, it does not take sides and urge the reader to identify with one strand of thinking or style of architecture at the expense of others, but it presents a dispassionate view, with persuasive arguments on behalf of different positions. It pursues the history of European and American architecture chronologically, but the history is interwoven with the philosophical ideas that informed both writers and architects and are essential for its understanding.
The book is relevant to current issues of contemporary practice and education, showing that philosophical issues are fundamental and those relating to design decisions never go away. It includes 200 illustrations and will appeal to all those interested in twentieth-century architecture and to architectural students.
Author: Nicholas Ray
Publisher: Routledge
Format: Paperback
Pages: 308
ISBN: 9781032156125
Publication Date: February 2023