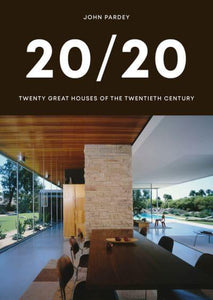 Ordered chronologically, and global in scope, this book provides an account of modern architecture through the prism of 20 of the most influential houses built over the past century. By telling the stories of these houses, it offers a fascinating biography of some of the greatest modern architects.

John Pardey examines the ground-breaking ideas, sensitivity to detailing and materials in houses designed by the likes of Gerrit Rietveld, Le Corbusier, Adolf Loos, Mies van der Rohe, Frank Lloyd Wright, Giuseppe Terragni, Alvar Aalto, Charles and Ray Eames and Oscar Niemeyer, and seeks to discover what lessons they can still offer for architects practising today.

20/20 tells the story of the client, the architect, the house and the events around the construction of each dwelling during the turbulent 20th century. It offers readers a fascinating biography of great architects in which revelations are found in their most intimate projects.
Author: John Pardey
Publisher: Lund Humphries Publishers Ltd
Format: Hardback
Pages: 223
ISBN: 9781848223530
Publication Date: September 2021