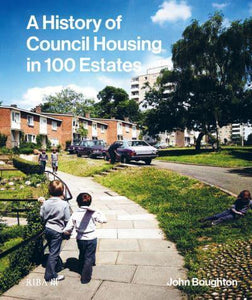 'It was like heaven! It was like a palace, even without anything in it … We'd got this lovely, lovely house.'

In 1980, there were well over 5 million council homes in Britain, housing around one third of the population. The right of all to adequate housing had been recognised in the 1948 Universal Declaration of Human Rights, but, long before that, popular notions of what constituted a 'moral economy' had advanced the idea that everyone was entitled to adequate shelter.

At its best, council housing has been at the vanguard of housing progress - an example to the private sector and a lifeline for working-class and vulnerable people. However, with the emergence of Thatcherism, the veneration of the free market and a desire to curtail public spending, council housing became seen as a problem, not a solution.

We are now in the midst of a housing crisis, with 1.4 million fewer social homes at affordable rent than in 1980.

In this highly illustrated survey, eminent social historian John Boughton, author of Municipal Dreams, examines the remarkable history of social housing in the UK. He presents 100 examples, from the almshouses of the 16th century to Goldsmith Street, the 2019 winner of the RIBA Stirling Prize. Through the various political, aesthetic and ideological changes, the well-being of community and environment demands that good housing for all must prevail.

Features:
100 examples of social housing from all over the UK, illustrated with over 250 images including photographs and sketches.
A complete history, dating from early charitable provision to 'homes for heroes', garden villages to new towns, multi-storey tower blocks and modernist developments to contemporary sustainable housing.
Iconic estates, including: Alton East and West, Becontree, Dawson's Heights, Donnybrook Quarter, Dunboyne Road and Park Hill.
Projects from leading architects and practices, including: Peter Barber, Neave Brown, Karakusevic Carson, Kate Macintosh and Mikhail Riches.

Author: John Boughton
Publisher: RIBA Publishing
Format: Hardback

Pages: 240
ISBN: 9781914124631

Publication Date: November 2022