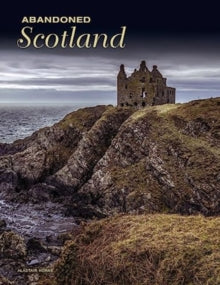 An ancient land with a turbulent past and haunting landscape, Scotland's material culture stretches back to the time of ancient Roman incursions north of Hadrian's Wall and includes Viking raids, wars with England, and clan wars that still stir the blood today. Now, remnants of the country's history can be found in every corner of this dramatic land, from the thinly inhabited Western Isles to the remote Highlands and the fishing ports of the North Sea coast.
In Abandoned Scotland, discover the ramshackle sanatorium of Glen O'Dee Hospital; see the rusting, neglected rides and rollercoasters of the Loudoun Castle Theme Park, closed after a fatal accident in 2007; quake at the site of New Slains Castle, Cruden Bay, said to be haunted by soldiers and mermaids; venture underground into the massive labyrinth of Cults Limestone Mine, which attracts treasure hunters and potholers, despite the dangers; explore Cramond Ghost Island, and the massive World War II teeth created to block the Firth of Forth in case of invasion; and see one of the country's many ruined castles, including the 14th century Castle Stalker, set on a tidal islet on Loch Laich, or the atmospheric Buchanan Castle, set close to Loch Lomond.


Illustrated with 180 photographs, Abandoned Scotland provides a fascinating pictorial exploration of the little-known corners of this glorious country.
Author: Alastair Horne
Publisher: Amber Books
Format: Hardback
Pages: 224
ISBN: 9781838863142
Publication Date: September 2023