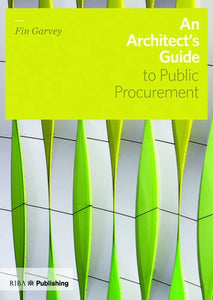 There is suspicion in the UK and across Europe that the upcoming introduction of new European Directives will encourage a regime of conservatism and legal risk aversion, fostering the delivery of mediocre and banal building design. This book dispels these myths and instead looks at the genuine impact of EU law on architectural practice.
Engaging in public sector work requires a broad understanding of this seemingly complex and constantly evolving subject, and unlike other texts, the book is designed to explore public procurement from the perspective of the architect. An easy to follow guide through the complex legal and technical jargon involved in the procurement process, the book provides practical tools which will assist architects in developing their own, clear procurement strategy.
Although written with a UK audience in mind, the advice will also be applicable to other European jurisdictions. It is invaluable reading for existing practitioners wishing to expand their current involvement in the public procurement process, as well as those encountering it for the first time.
Author: Fin Garvey
Publisher: RIBA Publishing 
Format: Paperback
Pages: 240
ISBN: 9781859465417
Publication Date: November 2015