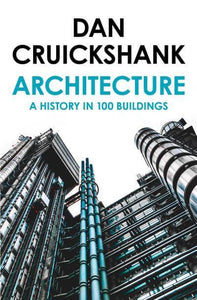 This stunning book by renowned television historian Dan Cruickshank tells the history of architecture through the stories of 100 iconic buildings.
Journeying through time and place, from the ancient Egyptian pyramids to the soaring skyscrapers of Manhattan, renowned architectural historian Dan Cruickshank explores the most impressive and characterful creations in world architecture.
His selection includes many of the world's best-known buildings that represent key or pioneering moments in architectural history, such as the Pantheon in Rome, Hagia Sophia in Turkey, the Taj Mahal in India and the Forbidden City in China.
But the book also covers less obvious and more surprising structures, the generally unsung heroes of an endlessly fascinating story. Buildings like Oriel Chambers in Liverpool and the Narkomfin Apartment Building in Moscow.
Dan Cruickshank has visited nearly all the buildings in the book, many in locations that are now inaccessible and under serious threat. A History of Architecture in 100 Buildings is an eloquent and often moving testimony to the power of great architecture to shape, and be shaped by, world history.
Author: Dan Cruickshank
Publisher: William Collins
Format: Paperback
Pages: 402
ISBN: 9780007581085
Publication Date: May 2019