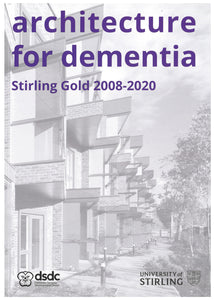 The Dementia Services Development Centre (DSDC) at the University of Stirling is an internationally renowned centre for knowledge exchange and expertise dedicated to improving the lives of people living with dementia.

Since the DSDC's formation in 1989 the DSDC has a reputation as an international leader in the field of dementia design. Its multi-disciplinary design team have worked with individuals and organisations across the globe to: make communities dementia-inclusive, supportive and enabling; and influence policy and practice in the field of architecture and the built environment. This includes designing for older people, for palliative and end-of-life care.

'Architecture for dementia' is a compendium of international architecture projects each awarded the world renowned DSDC building accreditation 'Gold' award for dementia design. This fundamental body of work provides an overview of the creative and evolving realm of designing for dementia from 2008-2020. The illustrated case studies exemplified encompass a variety of building scales, typologies and geographies. Each project offers solutions and suggestions on how to design dementia-inclusive environments whilst responding to their own context and the regional variations in care, societal attitudes and economies.

This compendium illustrates in vivid detail the shifting attitudes to dementia design and the role the built environment can play to support people living with dementia.


Author: University of Stirling Dementia Services Development Centre

Publisher: Dementia Services Development Centre (DSDC)

Format: Paperback

Pages: 124

ISBN: 9781908063366

Publication Date: October 2020