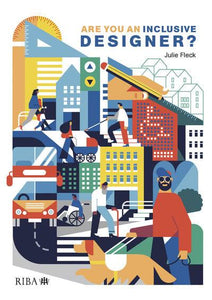 Despite improvements in the last 30 years we still have a long way to go before all of our buildings are easy and comfortable for all of us to use. This book puts forward a powerful case for a totally new attitude towards inclusivity and accessibility.  
An eye-opening guide to the many factors impacting accessibility in the built environment, this essential text is packed with illustrated examples of both good and bad design. It challenges the notion that inclusive design is simply a list of "special features" to be added to a final design, or that inclusivity is only about wheelchair access.
Exploring both the social and the business cases for striving for better standards, this essential resource empowers architects to have more enlightened discussions with their clients about why we should be striving for more than the bare minimum.
Author: Julie Fleck
Publisher: RIBA Publishing
Format: Hardback
Pages: 335
ISBN: 9781859468524
Publication date: October 2019