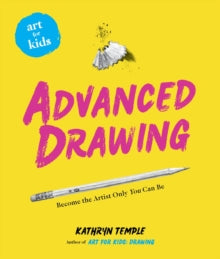 This companion volume to Art for Kids: Drawing builds on skills taught in the first book, focusing on the integrating and big picture skills of drawing and the creative process. These include style, composition, content selection, sources of inspiration, quality of line (loose and gestural vs. clean and tight), as well as grounding and contextualizing subjects.

Filled with clear instructions, easy-to-use techniques, and a wealth of encouragement, get ready to make great original drawings. You'll be amazed by the art they can create!
Author: Kathryn Temple
Publisher: Union Square & Co.
Format: Paperback
Pages: 120
ISBN: 9781454936961
Publication Date: October 2022