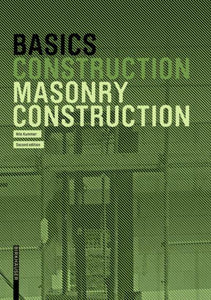 Recommended for Students of Architecture
Masonry construction is usually the first building exercise the student encounters in his or her training. This volume elaborates the fundamental principles of scale, construction, and assembly of building components using simple masonry structures as examples.
Topics:
materials and measurements
building physics and load-bearing structures
typical bonds
building components
execution of masonry structures
The present volume aims to introduce students systematically to the subject of masonry. Bricks and mortar, the elemental basic components, are used to devise rules for building a wall. The emphasis is on the overall systems and material-dependent properties. The interplay of bricks, the forms of masonry bonds, and the aesthetic of masonry with wall apertures, projections and recesses are explained soundly and methodically so that students can understand the essence of masonry and apply their insights directly to their designs and projects.
Author: Nils Kummer
Publisher: Birkhäuser
Format: Paperback
Pages: 72
ISBN: 9783035623109
Publication Date: October 2021