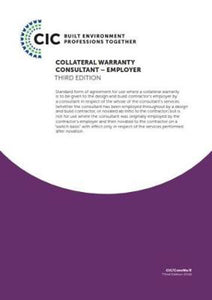 Construction Industry Council (CIC) Collateral Warranty Consultant - Employer 2018 (Third Edition) CIC/ConsWa/E
Standard form of agreement for use where a collateral warranty is to be given to the design and build contractors employer by a consultant in respect of the whole of the consultants services.
Single copy. Available in hard copy format only.
Publisher: Construction Industry Council

Format: Paperback

ISBN: 9781898671459

Short Code: CIC/ConsWa/E 2018
Publication Date: November 2018