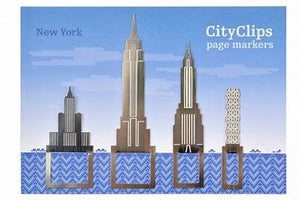 CityClips are little architectural page markers produced to a scale of 1:5000
Produced to scale these little urban page markers will top your books, files or paperwork with a superb tiny skyline of the city.
Designed and produed by Another Studio, creators of gifts for thoughtful givers.
Mark your favourite pages to create you own tiny skyline of the city!
Contents: Four page markers

Materials: Stainless steel, paper

Packaging Dimensions: 15 x 11 cm
ISBN: 610696091796