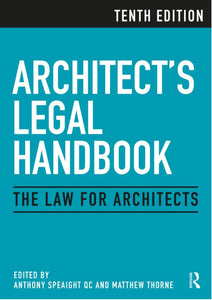 The Architect's Legal Handbook is the most widely used reference on the law for practicing architects and the established textbook on law for architectural students.
Since the last edition of this book in 2010, the legal landscape in which architecture is practised has changed significantly: the long-standing procurement model with an architect as contract administrator has been challenged by the growing popularity of design and build contracts, contract notices in place of certificates, and novation of architect's duties.
The tenth edition features all the latest developments in the law which affect an architect's work, as well as providing comprehensive coverage of relevant UK law topics. Key highlights of this edition include:
an overview of the legal environment, including contract, tort, and land law;
analysis of the statutory framework, including planning law, health and safety, construction legislation, and building regulations in the post-Grenfell legal landscape;
procurement and the major industry construction contract forms;
building dispute resolution, including litigation, arbitration, adjudication, and mediation;
key fields for the architect in practice, including architects' registration and professional conduct, contracts with clients and collateral warranties, liability in negligence, and insurance;
entirely new chapters on various standard form contracts, architects' responsibility for the work of others, disciplinary proceedings, and data protection;
tables of cases, legislation, statutes, and statutory instruments give a full overview of references cited in the text.
The Architect's Legal Handbook is the essential legal reference work for all architects and students of architecture.
Author: Anthony Speaight QC, Matthew Thorne
Publisher: Routledge 
Format: Paperback
Pages: 434
ISBN: 9780367233686
Publication Date: January 2021