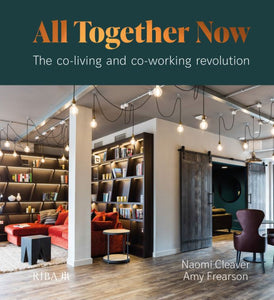 The pandemic imposed a major shift on how we live and work. National lockdowns eradicated the lines between home, office and school, making conversations around live/work spaces more urgent than ever before. Instead of driving people apart, social distancing, remote working and the reliance on digital communication have led to a huge demand for physical togetherness. How can we design a future that enables greater collaboration, connectivity and social interaction?

The trend for shared living spaces is showing no signs of slowing down; collaborative spaces have been hailed as the solution to the 21st century's culture of overwork, a broken housing market and chronic loneliness, particularly among the elderly. When implemented carefully, considering different degrees and models of sharing, they tackle the question of independence (and its complex relationship with solidarity) and the longevity and power of intergenerational living.

A practical and inspirational design guide, this book draws on Naomi Cleaver's own experience as a designer alongside the work of other experts including Rockwell Group, Dorte Mandrup Arkitekter, Squire and Partners and DH Liberty. Featuring detailed and highly illustrated case studies across co-living and co-working typologies, it takes in new builds and conversions of various sizes that have been implemented internationally. It concludes with a best practice toolkit that provides valuable advice and lessons for designers working at any scale.

Case studies include:

• Humanitas Deventer, The Netherlands
• K9 Coliving, Sweden
• Mokrin House, Serbia
• NeueHouse Hollywood, Los Angeles
• Outpost Ubud Penestanan, Bali
• The Project at Hoxton, London.

Foreword by Professor Sadie Morgan OBE, Director of dRMM and Chair of the Quality of Life Foundation.
Author: Naomi Cleaver, Amy Frearson

Publisher: RIBA Publishing

Format: Hardback

Pages: 224

ISBN: 9781859468982

Publication Date: May 2021