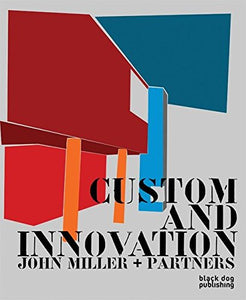 Custom and Innovation: John Miller + Partners is the first publication devoted to the work of John Miller + Partners, and explores Miller's work from his student days at the Architectural Association, to his present practice as a multi-award winning firm. The book provides an insight into the contemporary fascination with museum buildings as well as the revived interest on post-war modernism both in Europe and the USA. John Miller + Partners is responsible for some of the most highly regarded museum and university projects of the past 25 years, such as the Queen's Building and the extension to Tate Britain, as well as schemes for the Fitzwilliam Museum and the National Portrait Gallery.
Custom and Innovation: John Miller + Partners takes a close look at the architects' body of work, and examines its working practices, such as John Miller's indebtedness to Modernism and its proponents, such as Le Corbusier. Further, the book sets out the practice's departure from its precedents by showing its work to be wholly contemporary and of its moment.
Fascinating texts by respected architects and writers elucidate the firm's contribution to modern architecture. Kenneth Frampton, well known for his writing on twentieth century architecture, looks at the work of John Miller in the context of the museum building, and other typologies he works with. Robert Maxwell, Emeritus Professor of Architecture at Princeton, writes extensively on architecture, combining consultancy and architectural criticism, and here looks at the historical context of John Miller + Partners' work. Finally, Deyan Sudjic, Director of the Design Museum, London, focuses on the early work produced by John Miller through his student days to his partnership with Alan Colquhoun.
Author: Kenneth Frampton
Publisher: Black Dog Press 
Format: Hardback
Pages: 192
ISBN: 9781906155704
Publication date: June 2009