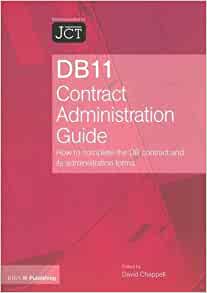 The 2011 Contract Administration Guides have been fully updated to accompany both the:
newly-released 2011 JCT Contracts

new range of corresponding Contract Administration Forms Recommended by JCT, each short guide offers clear, authoritative instructions to completing and administering both the contract itself and the relevant administration forms.
They include clear worked examples of every relevant contract administration form with notes about their use, completion and issue. The detailed guidance extends to how to complete the Articles, Recitals and Contract Particulars, invaluable to those unfamiliar with contract formation of who simply need a reference to check they have the details right. Useful checklists also contain action reminders at the different stages together with a clause-by-clause list of the duties that the Architect or Contract Administrator must carry out, as well as those that are optional.
Author: David Chappell
Publisher: RIBA Publishing 
Format: Paperback
Pages: 84
ISBN: 9781859464137
Publication Date: November 2011