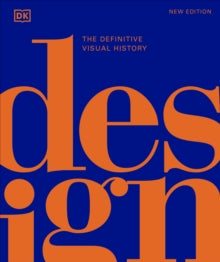 Discover the history of design with this gorgeous visual celebration of key pieces, movements, and designers, from the Arts and Craft movement to the digital age. Discover all you need to know about art and design in this definite guide. Design: The Definitive Visual Guide brings a gallery of more than 1200 images, covering every major design movement - from 1850 to the present day.

Arranged chronologically, this art deco book traces the evolution of design from its roots to the present day, from early chairs, pottery, and homewares to cars, graphic design, and product design. It introduces all the key designers, manufacturers, and objects, illustrating how and why different styles emerged and became popular. It also provides a fascinating insight into design movements, showing how each one began and explaining its philosophy and visual style, from the Arts and Crafts movement to mid-century modern and contemporary.
With profiles of famous designers and manufacturers, such as William Morris, the Bauhaus, Alvar Aalto, Frank Lloyd Wright, and Vitra, and stunning images of iconic buildings and interiors, it provides a glorious and comprehensive view of classic design across the last two centuries. Proving the perfect addition to the library of anyone with an interest in design and the history of design, a well as an ideal gift book for students of art and design.
Publisher: Dorling Kindersley
Format: Hardback
Pages: 400
ISBN: 9780241631782
Publication Date: March 2023