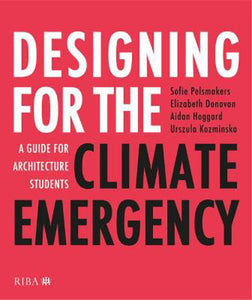 Climate change is not distant. It is underway. We are in the midst of a climate emergency. Architects can - and must be - part of the radical change needed, and we must understand the impact of local decisions on the global scale.

This book guides you as an architecture student to create truly sustainable designs, reflecting the urgent need for action. It tackles the quadruple challenges of the climate emergency:


Adapting to a changing climate
Climate change mitigation
Creating a positive and restorative design
Improving climate justice locally and globally.
Focusing on holistic design approaches through 10 key themes, it will help you integrate into your design projects consistently high values from all areas of sustainable architecture.

Structured around the different stages of the design process through five illustrated chapters, it highlights what you need to consider when developing a project and when to think about it. Reflecting what is required by years of study, it outlines what a year 1 or year 3 student should be aiming for. This provides step-by-step guidance, preparing you for architecture practice.

Unique features include: key recommendation checklists, measurements against the UN Sustainable Development Goals, readings, case studies, student examples, notes and an extensive glossary.

Become inspired and more confident to build a sustainable tomorrow.
Author: Sofie Pelsmakers, Elizabeth Donovan, Aidan Hoggard, Urszula Kozminska
Publisher: RIBA Publishing
Format: Paperback
Pages: 292
ISBN: 9781859469644
Publication Date: June 2022