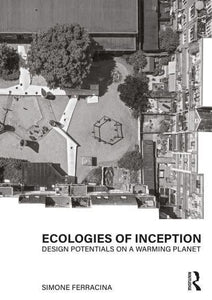 Responding to increasing levels of planetary pollution, waste generation, carbon dioxide emission and environmental collapse, Ecologies of Inception re-thinks potentiality-an object's ability to change-in architecture and design.

The book problematizes the still-prevailing modern paradigm of design practice: the technical tabula rasa, a tendency to begin from scratch and use raw, amorphous, and obedient materials that can be easily and effectively manipulated, facilitating a seamless and faithful embodiment of intentions. Instead, the philosophy of design developed in the text prompts-through a variety of case studies, thinkers, and disciplines-a collective reconsideration of value, dissociating it from the projects and signatures of any one author or generation. Whereas the merits of up-cycling and circular design are canonically defined vis-à-vis status-quo economic and socio-cultural orthodoxies, this project unpacks the theoretical assumptions that underpin these practices, showing that they perpetuate the same biases and exclusions that generate waste in the first place.

As an alternative, the book introduces a nodal and exaptive paradigm for design: a conceptual and methodological toolset for engaging the durational and anthropocenic materiality of the third millennium, and for radically prioritizing practices of maintenance, reuse, care, and co-option. This approach, which is inspired by (and builds upon) evolutionary biology, technological disobedience, queer use, adaptive reuse, experimental preservation, and improvisational practices such as collage, adhocism, bricolage, and kit-bashing, refuses to reduce pre-existing material substrates to abstract lists of properties or featureless lumps, encountering them on their own terms-as situated individuals and co-authors.

Ecologies of Inception will appeal to undergraduate and postgraduate students, educators, and professional architects and designers interested in sustainable design and seeking to develop conceptual and design tools commensurate with the magnitude and urgency of the climate emergency.
Author: Simone Ferracina
Publisher: Taylor & Francis / Routledge 

Format: Paperback

Pages: 299

ISBN: 9780367858766

Publication Date: May 2022