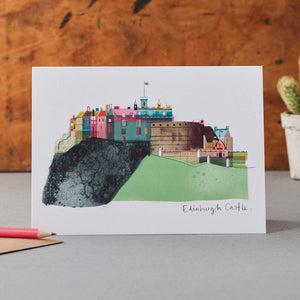 Uniquely designed by Ilona Drew, this stunning card has been printed in the UK on quality 350gsm board and measuring 178mm x 130mm.
All Landmarks designs come with recycled kraft envelopes.
Blank inside for your own message.
Did You Know?

One of the more infamous stories about the castle ghosts is that of the bagpiper. When the tunnels underneath the Royal Mile was first discovered, a piper was sent down to investigate, playing his bagpipes along the way so people above could track him. When the music suddenly stopped playing around half way down the Mile, a search party was sent down to retrieve the boy, however he was never found. Several search parties combed the tunnels, looking for him, but the body was never retrieved. People say his music can still be heard under the castle and the Royal Mile.
Contents: Greeting card

Materials: Paper

Packaging Dimensions: 178mm x 130mm
ISBN: 5060456790875