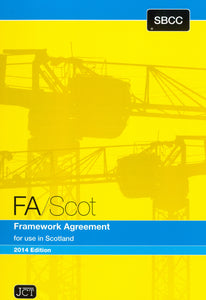 SBCC produces building contracts and guides designed to meet the needs of the construction industry in Scotland. They are based on JCT contracts but compliant with Scottish law and practice.
Appropriate:

for the procurement of construction/engineering related works over a period of time;
for use by clients with contractors and/or suppliers;
for use by contractors, sub-contractors and/or suppliers sub-letting to others in the supply chain;
for use with most standard forms of construction and engineering contracts and sub-contractors.
Can be used:
where compliance with the public procurement rules is required;
on a single project.
Publisher: SBCC

Format: Paperback

ISBN: 9781909432093

SBCC Code: SBC551

Short Code: FA/Scot 2014
Publication Date: March 2015
Amendment and Errata Sheets