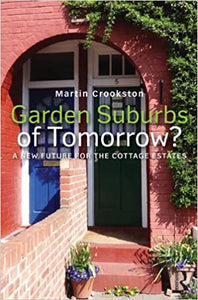 Faced with acute housing shortages, the idea of new garden cities and suburbs is on the UK planning agenda once again, but what of the garden suburbs that already exist?
Over the first six decades of the twentieth century, councils across Britain created a new and optimistic form of housing – the cottage estates of 'corporation suburbia'. By the early 1960s these estates provided homes with gardens for some 3 million mainly working-class households. It was a mammoth achievement. But, because of what then happened to council housing over the later years of the century, this is not very often appreciated.
In Garden Suburbs of Tomorrow, Martin Crookston suggests that making the most of the assets which this housing offers is a positive story – it can be positive for housing policy; for councils and their 'place-making' endeavours; and for the residents of the estates. This is especially important when all housing market and development options are so constrained, and likely to remain so for the next decade or more.
Following an examination of what the estates of 'corporation suburbia' are and what they are like, there follow chapters on specific examples from different parts of the country, on how they are affected by the workings of the housing market, and then – not unconnectedly – on how attitudes to this socially-built stock have evolved. Then the final chapters try to draw out the potentials, and to suggest what future we might look for in corporation suburbia in the twenty-first century.
Author: Martin Crookston
Publisher: Routledge
Format: Hardback
Pages: 200
ISBN: 9780415858939
Publication Date: Dec 2013