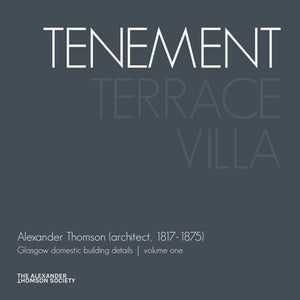 Volume One of the Alexander Thomson Society's domestic building survey
A catalogue of measured drawings, photographs and information, compiled specifically on external building details of each of Thomson's tenement building in Glasgow. The first volume includes measured surveys of five Thomson-designed tenement buildings in Glasgow, as well as an appendix featuring information and photographs of eight other tenement properties that are associated with Alexander Thomson. Each of the drawings within the survey has been produced digitally and to scale as the result of on-site measured surveys.
An interesting aspect of the publication is the order in which the building elements have been compiled, arranged by element instead of by building, beginning with the top-most elements (e.g. chimney cans) and down to ground level (e.g. cast-iron railings). This creates an insightful means of comparison and fresh way of studying his designs. The document is easy to navigate, as an overview of each building is included at the beginning that explains the overall building design and where to locate each element survey.
Author: Zoe Herbert. Mark Baines (Introduction)
Publisher: The Alexander Thomson Society
Format: Paperback
Pages: 100
ISBN: 9781999650001
Publication Date: 2018