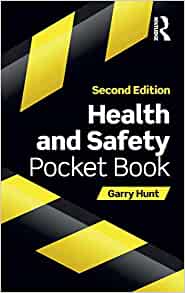 The second edition of the Health and Safety Pocket Book has been fully revised and updated to include all the relevant legal, HSE ACoP/Guidance and practice references. It remains a handy reference tool for practising health and safety professionals, auditors, managers, HR personnel, employee representatives and anyone with health and safety responsibilities.

The book is an essential compilation of guidance, data and checklists covering a wide range of health and safety topics, supported by extensive key glossary terms. The A–Z arrangement within the chapters and extensive cross-referencing make it easy to navigate, while its size and scope make it the ideal volume for ready reference and site visits. The book will also be useful for health and safety courses at all levels.

Key features include:
The principal health and safety legal requirements for every industry
Safety management elements and systems 
Checklists for major hazards affecting all industries
A wealth of charts, hard-to-remember details and data
A glossary of the main concepts of health and safety 
A list of important health and safety courses, publications and organisations
Revision tips for key examination themes.
Author: Garry Hunt
Publisher: Routledge
Format: Paperback
Pages: 492
ISBN: 9781138091467
Publication Date: Febuary 2018