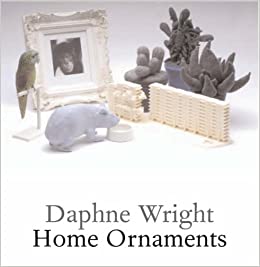 Home Ornaments is the collective name for a group of objects created by the artist Daphne Wright to be presented to individual owners of new flats built during the recent redevelopment of the Gorbals in Glasgow.
Wright conceives of the public arena as knowledge and narrative rather than as any form of physical space, and Home Ornaments was created to function as much through a secondary life of anecdote and argument as it was as objects.
Designed to function as an integral part of the artwork, this book features images that create a visual essay of the artist's influences woven through two major texts. Shelf Life: A Pocket Encyclopaedia by Francis McKee is an alphabetical primer reflecting the idiosyncratic mix of voices and references that provided the context for the artist's conceptual process. In contrast, Simon Morrissey's retrospective essay explores the evolution of Home Ornaments and the contentions over aesthetics, meaning, value and ownership that the work generated. Together they provide a fascinating insight into how Wright's distinctive project critically questions the parameters of what public art can be.
Author: Francis McKee and Simon Morrisey
Publisher: Frith Street Gallery