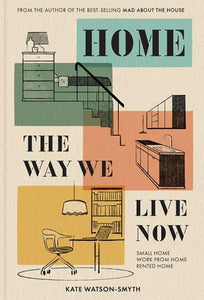 Home: The Way We Live Now is an innovative new sourcebook for modern living. Interiors expert Kate Watson-Smyth looks beyond the estate agent's floorplan and shows how to use the space you have to revolutionise the way you live, whether you own or rent.
Use the space you have to revolutionise the way you live.
A unique and innovative split-format page design allows you to mix and match ideas and plans for working from home, making the most of small spaces and finding temporary solutions in a rented space. By choosing from over 250 practical solutions, you will be able to make your rooms multi-purpose and get the most out of your home, at every stage of your life. The three key elements to the way we live now - the rising rental market, the issue of working from home and of living in small spaces - are inextricably linked. This book allows you to configure the sections to what you need from your home: temporarily zoning an open-plan kitchen, working in a small bedroom, decorating a tiny rental. By using this book, you will avoid costly mistakes, so you can buy furniture, storage and decorations well and buy once.
Packed with invaluable tips and ingenious space-saving solutions, and accompanied by gorgeous illustrations, Home also includes in-depth advice features from hoteliers, interior designers, bloggers and influencers.
With helpful hints and intelligent knowledge on building regulations, lighting, multi-functional furniture, getting around rental regulations, finding space for office equipment and using decor to improve your mood, Kate explains how to use the space you have to change the way you live, for a happier, more productive home life.
Author:
Kate Watson-Smyth
Publisher: HarperCollins Publishers
Format: Hardback
Pages: 144
ISBN: 9781911682332
Publication Date: April 2023