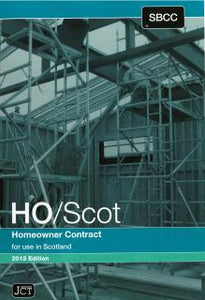 SBCC produces building contracts and guides designed to meet the needs of the construction industry in Scotland. They are based on JCT contracts but compliant with Scottish law and practice.
Please note the 2013 edition has now been replaced by a 2015 edition. The 2015 edition is not available in print format, please visit scottishbuildingcontracts.com where a PDF version can be purchased.
Building contract for a homeowner/occupier who has not appointed a consultant to oversee the work.
Appropriate Use:
Use this contract if you, the customer, deal directly with a builder working on your home. It is not generally suitable for large projects where you may need to employ a consultant to act for you.
Important Note: if you need a consultant to be involved during the work, the building contract will not be suitable. In this case you should use our 'Building contract for a home owner/occupier who has appointed a consultant to oversee the work'.
Publisher: SBCC
Format: Paperback
ISBN: X5800413
SBCC Code: SBC542
Short Code: HO/Scot 2013
Publication Date: May 2013
Amendment and Errata Sheets