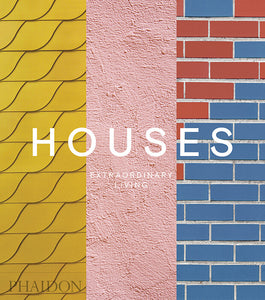 Explore 400 of the world's most innovative and influential architect-designed houses created since the early 20th century
Throughout history, houses have presented architects the world over with infinite opportunities to experiment with new methods and materials for domestic living.
Houses: Extraordinary Living celebrates the incredible diversity and beauty of the house as never before, from Modernist icons to feats of technological, material, and spatial innovation in the 21st century.
The 400 houses in this collection are organized in curated pairings, with each entry featuring an evocative image and an engaging description. Styles presented include Modernism, Postmodernism, Brutalism, Regionalism, Deconstructivism, and International Style. Houses are from countries and locations worldwide that are famed for their houses, such as Australia and Japan, the Case Study Houses in Los Angeles, New Canaan in Connecticut, and Fire Island in New York.
Explore the creative imaginations of hundreds of internationally renowned architects past and present, as well as dozens of awe-inspiring houses by lesser-known and emerging talents. Iconic architects of the twentieth century, including Le Corbusier, Mies van der Rohe, and Marcel Breuer, as well as the very best of contemporary architects working around the world today, such as Tadao Ando, Grafton, and Steven Holl are included.
Houses: Extraordinary Living is the perfect gift for designers and architects, and anyone interested in where - and how - people live.
Author: Phaidon Editors
Publisher: Phaidon
Format: Hardback
Pages: 488
ISBN: 9780714878096
Publication Date: May 2019