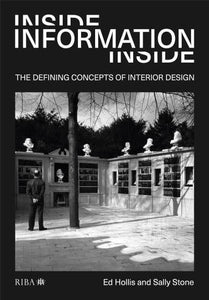 Every built structure has an interior: whether it takes the rough form of a rudimentary shelter, the grey walls of a hospital or the finessed decoration of a one-off residence. We spend most of our time inside buildings.
Shut your eyes and you will find yourself in your own interior. You will always be inside.

Mastering the language, thinking and history of the interior is critical to understanding and designing spaces. This essential primer transcends the boundaries and genres that often define interiors, providing a comprehensive view of the concepts and vocabulary of interior design.

Written as an accessible 'treasury' of principal terms and ideas, Inside Information engages with the past, uncovering the future potential of the interior, and its design.
Introduces the reader to 26 key terms, from ante- to zeitgeist.
Covers areas of study from the very practical - structures, decoration and sustainability - to the philosophical - gender, space and light.
Features sources, ranging from: Le Corbusier to Norman Foster; Jacques Derrida to Noam Chomsky; Virginia Woolf to George Orwell.
Highly illustrated with over 100 photographs and drawings.
Author: Sally Stone, Edward Hollis
Publisher: RIBA Publishing
Format: Paperback
Pages: 320
ISBN: 9781859469248
Publication Date: March 2022