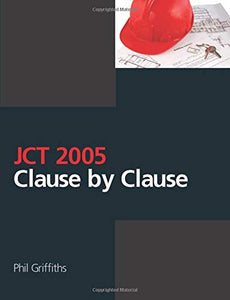 Uses a novel clause-by-clause approach to explain the important JCT 2005 contract
Written by an experienced author, explaining in simple English the meaning and relevance of each clause to avoid common misunderstandings
Includes up-to-date legal cases that explain the development and interpretation of the contract
The Joint Contracts Tribunal's suite of contracts (commonly known as JCT 2005) are the most commonly used in the UK to procure major building work. Understanding the contracts, and which to use, is vital knowledge for all students on construction-related HND or degree courses, but these clauses can contain convoluted language, leading to confusion. This easy-to-follow guide takes the reader through the JCT 2005 building contracts clause by clause, in an easy-to-follow format, in simple but effective language that eliminates misinterpretation.
Spilt into 3 sections, this book provides a summary of the current JCT Contracts, identifying which to use for what type of work, along with an analysis of their risk, liability, documentation, design responsibility and financial procedures, ensuring that JCT 2005 Building Contract: clause by clause is the vital, definitive reference for the aspiring construction professional.
Phil Griffiths is a lecturer at Nottingham Trent University with interests in contract administration, finance and project management. He graduated from Nottingham Trent Polytechnic in 1971 and worked as a quantity surveyor in local authority and a medium sized construction company. He also spent some time as a director of a small construction company and is a freelance estimator.
Author: Phil Griffiths
Publisher: Routledge
Format: Paperback
Pages: 272
ISBN: 9781856175180
Publication Date: October 2009